Our Music Ministry offers choir, hand bells and more to musicians of all ages and levels!
Open to all youth in Grade 8 through adults, sings in worship weekly at 10:25am.
The Grace Church Choir performs music from a broad spectrum of styles and time periods: renaissance motets, classical masterpieces, African American spirituals, modern anthems, and contemporary praise songs. There is music for everyone at Grace! The choir produces two concerts with orchestra accompaniment each year: The Christmas Concert "A Feast of Carols", and a Spring Concert featuring a major choral work. Grace Church Choir is a singing ensemble open to children in 8th grade through adults. Music reading ability is a plus but not a requirement. A vocal placement "audition" is required prior to joining. The choir rehearses on: Thursday evenings from 7:00 p.m. until 9:00 p.m. in the Sanctuary and Sunday mornings at 9:30 a.m. to prepare for worship (10:25 a.m.). The group is composed of kind, caring individuals who enjoy being together. Newcomers are warmly welcomed! Please consider singing with the Grace Church Choir. Please contact Director of Music, Michael Shoremount via email michael@gracechurchum.org to learn more.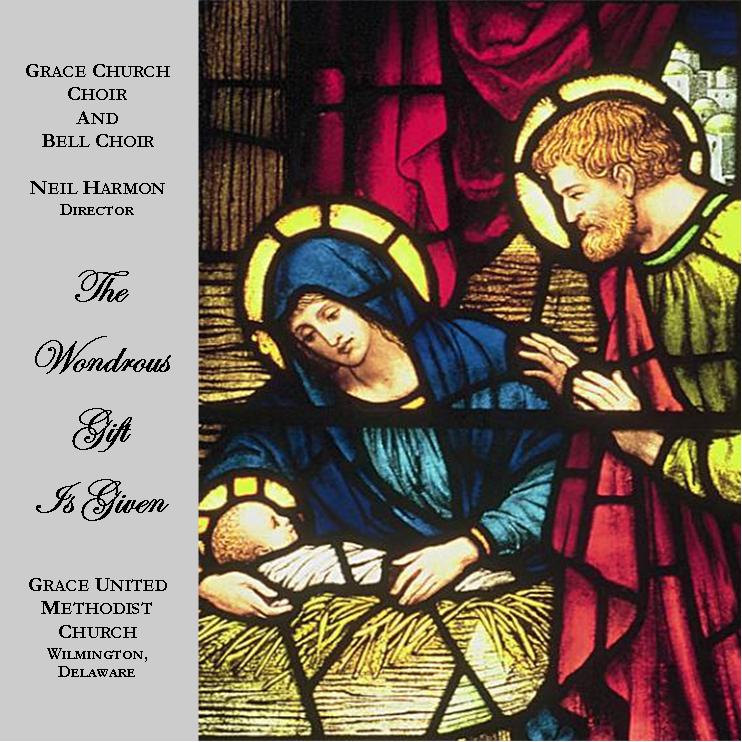 Purchase "A Wondrous Gift is given" today!
Each copy costs $15 (plus shipping and handling) of Grace Choir's first CD recording (2008) and can be obtained by contacting the church office, (302) 655-8847.
Bell choir rings in worship monthly at 10:25am
Adults, youth, and children are welcome to participate in one of our handbell ensembles. Our 5 octaves of Malmark bells resound joyfully throughout the acoustics of our sanctuary. Our bell choirs typically meet between September and May, and participate in worship throughout the year. If you feel led to participate in one of our handbell ensembles, please contact Michael Shoremount, Director of Music. The Bells of Grace is a traditional hand bell ensemble open to all over the age of 12 (roughly 6th grade). Music reading ability is a plus but not a requirement. Instruction is given in a reassuring environment for beginning and experienced ringers. Rehearsals are held on Thursday evenings from 6:00 p.m. until 6:45 p.m. in the 3rd floor music room.
Grace Church Organ is a Casavant Fréres, Opus 2696, Completed 1962. For additional Information about the Organ, please contact Principal Organist, Gabe Benton at gabe@gracechurchum.org